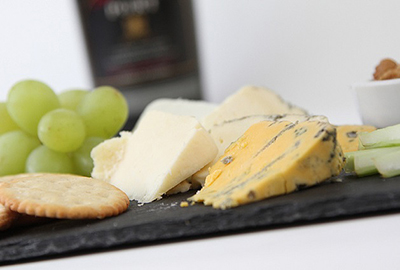 Shepherds Purse
An extensive selection of cheeses including locally produced speciality cheese, perfect for cheese boards and delicious salads.
Ref:
Product Name:
Product Size:
Traditional continental style blue cheese. Matured over at least 8 weeks and individually hand turned to ensure the consistent blue-veining and creamy smooth texture. Made from cows milk.
Golden-bodied, blue-veined cheese, made with milk from classy Yorkshire cows. Mellow, continental style blue cheese. Creamy and soft with a touch of pepper to finish.
Melt in the mouth blue mould ripened cheese, hand crafted from Yorkshire cows milk. Hand-made in small batches on the family farm, Bluemin White is a unique artisan blue mould ripened cheese. Firm, yet creamy, delivering mushroom flavours.
Crumbly and creamy cows milk cheese. Made to a traditional 11th Century Dales recipe adapted to give a more moist creamy cheese.
Alex James from Blur named this cheese after his favourite New Order song. Made from cows milk it is milder than most blue cheeses and has a creamy texture with cracks and streaks of blue
Sophisticated and creamy blue-veined cheese. The British rival to Roquefort made with 100% British sheeps milk. Featured on BBCs Rick Stein Food Heroes programme.
Made from 100% premium ewes milk, Yorkshire Fettle combines a creamy and crumbly texture, typical of a Greek salad cheese with the luxurious meadowy sweet notes of the ewes milk.
Fresh ewes milk cheese made using local milk. Beautiful fresh, crisp creamy taste that cleanses the palate leaving it refreshed. It slices straight from the fridge and spreads easily at room temperature.
A perfect Yorkshire combination, using finest Lavender flowers and locally produced ewes milk. This cheese is carefully matured with Lavender flowers producing a creamy fresh cheese with a hint of lavender. Easy to slice and wonderful for a salad combination.
• (f) indicates where products will arrive frozen.
• (h) indicates where products can be heated.
• (48) indicates where Trio FoodService require 48 hours notice before delivery.