This year we have some fabulous food to help you celebrate the festive season and to make it as stress free as possible. Our Christmas brochure highlights new seasonal products, however, if you require anything that doesn't appear in the brochure just ask, we will try and help.
2016 Christmas Delivery Days
Limited Delivery 24 December

Closed Monday 26 December
Limited Delivery Saturday 31 December
***normal delivery all other days***
Our new seasonal range include a variety of Christmas Lunch/Dinner products, including Fresh Butterfly Turkey Breast 2kg, Horseshoe Gammon Joints 5kg, Pigs in Blankets (f), Honey Roasted Parsnips (f), Roast Potatoes (f) Cranberry Sauce and much more.
We have some delicious Christmas Desserts and Cakes available, including Sour Cherry Red Velvet Cake (f), Spiced Carrot & Orange Cake (f), Gingerbread & Apple Cake GF (f), hot puddings along with some delightful counter top teats including, Wrapped Iced Christmas Cake Slices, Wrapped Gingerbread Reindeer and Wrapped Snowballs and more
We have a good selection of Festive Pies and Buffet Food, including Gala Pie, Pork Pies, Samosas, Spring Rolls, Onion Bhaji, Quiche and more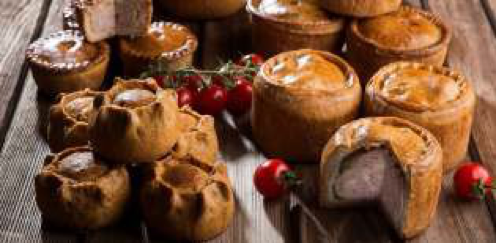 • (f) indicates where products will arrive frozen.
• (h) indicates where products can be heated.
• (48) indicates where Trio FoodService require 48 hours notice before delivery.